About Myerson
For centuries, people tried to fashion substitutes for lost teeth from a variety of materials: ivory, gold, even stone. In the early 1900s, Dr. Simon Myerson, a young practicing dentist in Boston and a teacher at the Harvard School of Dental Medicine by day, toiled at night to create artificial teeth that would simulate the appearance of natural teeth.
Dr. Myerson founded the Myerson Tooth Corporation in 1917 to bring his creations to the world of dentistry. joined later in business by his three sons – Alvan, Richard, and Martin – the Myerson family brought about important advances in prosthetic dentistry.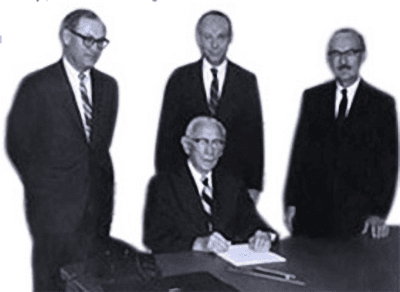 Myerson first.
True-Kusp flat plane posterior tooth dramatically reduced wear when porcelain teeth were opposed to plastic teeth.
True-Blend was the first artificial tooth with a layer of transparent enamel, simulating the appearance of a natural tooth more closely than any artificial tooth ever had before.
Durablend was the first cross-linked co-polymer resin tooth, ushering in a new era in prosthetic materials with its wear resistant properties.
Remaining true to this rich heritage, Myerson continues to bring new, innovative products to the dental industry, including EMA® and EMA First Step™ for the treatment of snoring and obstructive sleep apnea, as well DuraFlex™ partials. Contact your Myerson representative today for all your dental product needs.
Leadership
"Celebrating its 100 year anniversary in 2017, Myerson has been well known throughout its history as a manufacturer of high quality, aesthetically appealing denture teeth. Today as a Company we combine that rich tradition as a respected, globally recognized dental business with the vitality and energy of a start-up venture. I am thrilled about the opportunities for strong organic growth in all Myerson made products in the over 40 markets we serve worldwide."
James H. Swartout
Chief Executive Officer
Contact James Swartout