Trusana Premium 3D Printing Resin is a next generation photopolymer ideal for your most demanding indications. Its patented chemistry delivers a highly esthetic, durable, unfilled polymer with the optimal amount of translucency to mimic natural teeth.

Trusana is 3x more wear resistant than current 3D printed materials and has a flexural strength more than double that of PMMA, making it the preferred material for All-On-X applications.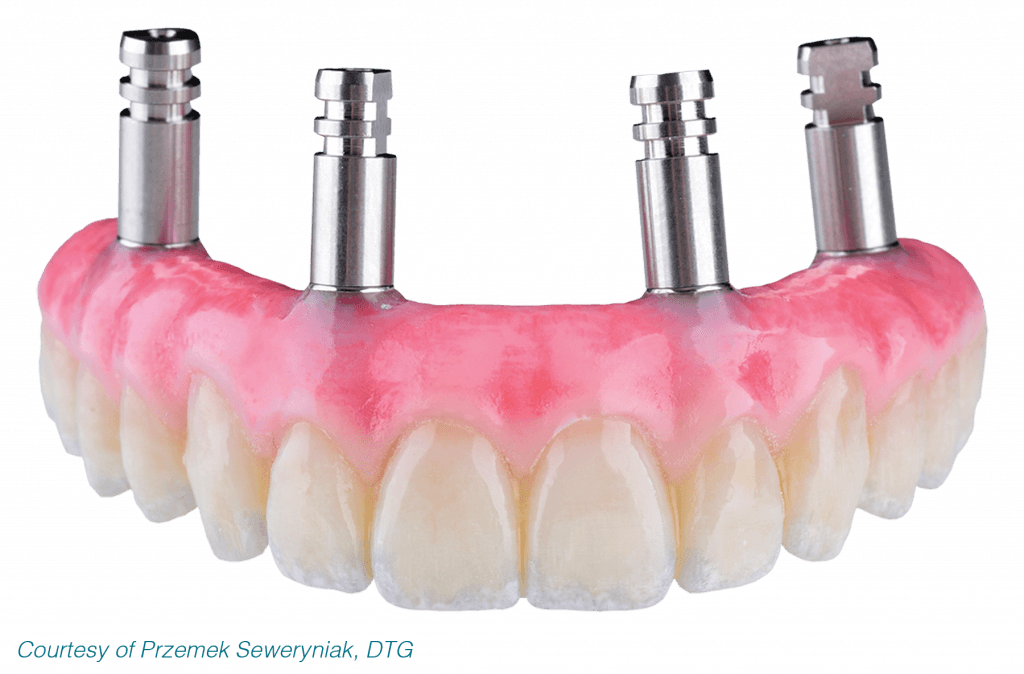 Ideal for denture teeth for use in making complete dentures, overdentures, or interim fixed complete dentures
Flexural Strength is 171 MPa after 14 days in water

Flexural Modulus is 3400 MPa after 14 days in water

Water absorption is only .3%

Six shades available: A1, A2, A3, B1, C1 and 51 (Bleach)

Validated on Asiga and SprintRay 3D Printers; more coming soon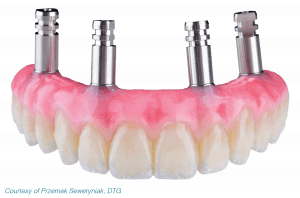 Ideal for the Trusana Complete Arch — a fixed implant prosthesis

Unfilled polymer with optimal translucency to mimic natural teeth

Exceptional flexural strength & modulus maintained in the presence of water

Proven fracture toughness & wear resistance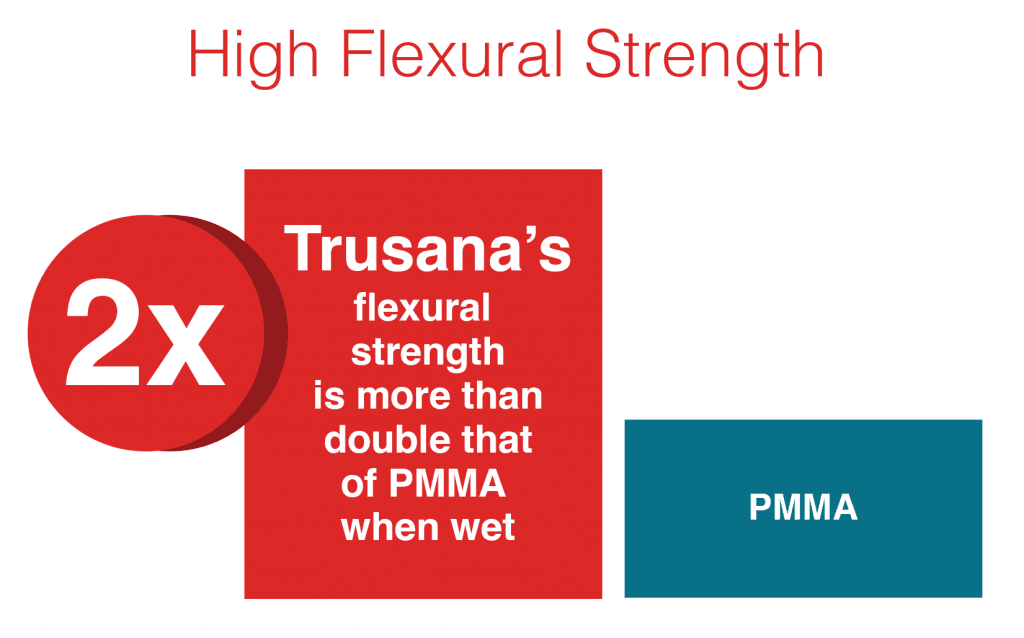 Flexural strength
after 14 days in water
Trusana: 171 MPa
PMMA: 82 MPa

Source: Tham, W.L., Chow, W.S.
and Ishak, Z.M., 2010.
Simulated body fluid and water absorption effects on poly
(methyl methacrylate)/
hydroxyapatite denture base composites.
Express polymer letters, 4(9).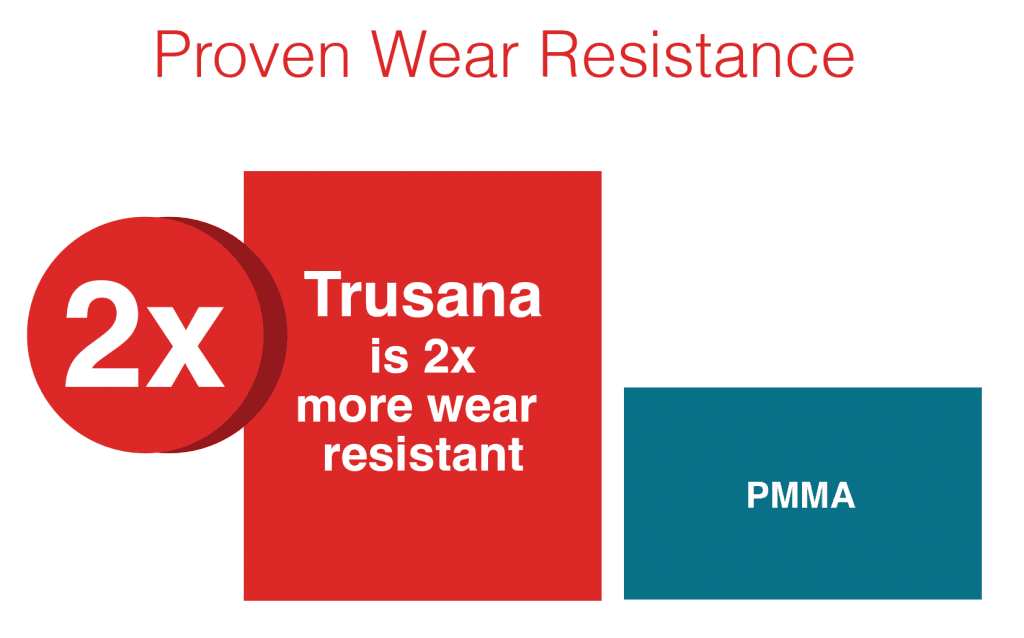 Wear Depth after 30,000 Cycles
Trusana: 30.61μm +/- 7.59
PMMA: 62.81μm +/- 2.01

Source: Midwestern University Colleges of Dental Medicine, AZ ASTM G133–95, Zirconia antagonist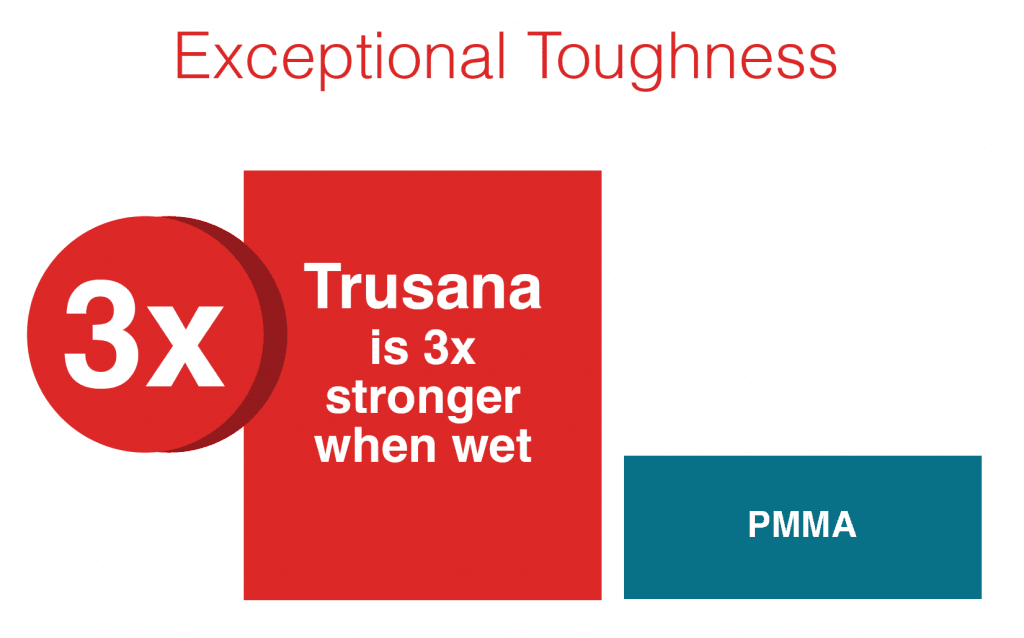 Flexural modulus after 14 days
in 98.6° F water
Trusana: ~ 3400 MPa
PMMA: ~1200 MPa

Source: ATS Lab, Marietta, GA
ASTM D790-17
What the Experts are Saying